Call for Submissions – Annual Meeting 2021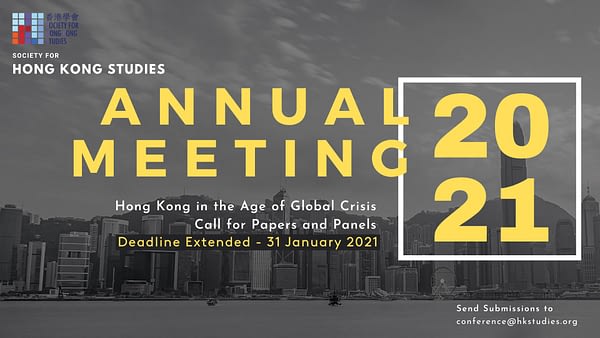 We are pleased to invite scholars and graduate students interested in Hong Kong Studies to submit proposals for paper or panel presentations at the 2nd Annual Meeting of the Society for Hong Kong Studies, to be held on 25 – 26 June, 2021, either in Hong Kong or virtually on Zoom.
The deadline for submission is extended until 31 Jan 2021.
This year's theme is "Hong Kong in the Age of Global Crisis" which we hope will stimulate collective and multi-disciplinary reflections on Hong Kong's experiences with public health crisis, economic turmoil, social unrest and political ruptures in the global context, past and present. This means we particularly welcome papers that compare, contextualize or connect Hong Kong with other societies and cultures. We will select papers addressing this conference theme to form a plenary session, with the potential of submitting them for publication as a special issue in academic journals. Beyond the conference theme, SHKS welcomes both paper and panel proposals on any topic related to the scholarly studies of Hong Kong, including but not limited to:
Hong Kong social and economic history
Literature, cinema, and the arts
Political institutions, elections, governance
Social movements and civil society
Law and criminal justice
Global city, popular culture, tourism, urban development, environment
Inequality, poverty, gender, class, ethnicity and race, sexuality
Transnational, regional, cross-border dynamics, migration
Economic development
Demography and family
As the only academic association promoting Hong Kong Studies that is inter-institutional and interdisciplinary, SHKS offers a unique platform for scholarly exchanges and professional community formations. Our annual meetings, to be held every year at the end of June, feature academic paper presentations, author-meets-critic sessions, keynote addresses and roundtable discussions on topics related to Hong Kong Studies. Due to the pandemic, we had to cancel the annual meeting in 2020. But we are prepared to host the 2021 meeting virtually if necessary.
Eligibility: Scholars and graduate students at any stage of their professional careers and at any local or overseas university are welcome to submit paper abstracts (max. 250 words each) or panel abstracts (max. 350 words each). Deadline of submission is 31 January, 2021. Authors and panel organizers whose abstracts are selected will be contacted by SHKS no later than March 1, 2021. Full papers are due June 1, 2021 to allow adequate time for invited discussants to read and prepare comments.
For any author whose abstract was accepted for the SHKS Annual Meeting 2020, kindly submit the abstract again and indicate in the submission if the abstract has been selected previously.
With permission from authors, papers presented at the Annual Meeting will be archived on SHKS website.
Registration fee: free for SHKS members; $200 for non-members
Send submissions and enquires to: conference@hkstudies.org