Call for Submissions – Work-in-Progress Workshop 2023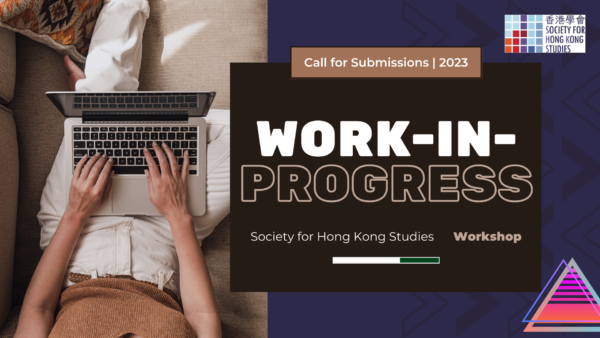 We are pleased to announce the launching of the 2023 Work-in-Progress workshop in Hong Kong Studies. The Workshop now calls for abstracts of papers, articles, chapters and dissertations in progress of any subject in the studies of Hong Kong. Graduate students are especially encouraged to submit their works.
Workshop Objectives
1. To provide graduate students and faculty a platform to present their on-going works on Hong Kong and receive feedback which help refine their research
2. To provide scholars who are interested in Hong Kong Studies a forum to learn and discuss about latest Hong Kong-related scholarship
3. To promote Hong Kong Studies through encouraging intellectual and academic exchanges among practitioners in the field, especially the graduate students who are interested in Hong Kong.
Format
All workshops are convened on Zoom. Selected authors will submit a full paper or a reasonably completed draft one week before their presentations. Their works will then be circulated among registered attendees of the workshop. When possible, relevant faculty or graduate students will be invited as discussants of a particular submitted work.
Submission Instructions
​Interested individuals should send a provisional title, an abstract (no more than 250 words), and a sentence about the project type (seminar paper, chapter, article, etc) to [email protected] by 17 January 2023.
Selected authors will be notified by 3 February 2023.
*Prefer submissions in English*